COURSE DIRECTOR

OFFERED BY

Brigham and Women's Hospital
Department of Medicine
Division of Genetics
The care of adult patients in the 21st century will increasingly rely upon an improved understanding of the genetic basis of disease. For many clinicians the impact of this transformation of medicine is already being felt. This course is designed to allow practicing clinicians the opportunity to acquire an up‑to‑date understanding of "genetic medicine for adults" from faculty who work at the interface between the emerging science and the growing clinical applications.
COURSE OBJECTIVES
Update knowledge regarding the genetic basis of adult disease.


Update knowledge regarding genetic testing, and the "best practice" applications for this testing in adults.


Update knowledge regarding non‑clinical implications of genetic testing, such as the ethical, legal, and social implications of genetic information.


Examine how changes in clinical practice, brought about through the integration of genetic knowledge into medicine, will translate to better patient care.


WHO SHOULD ATTEND
Internal Medicine Physicians


Family Practitioners


Genetic Counselors


Nurse Practitioners


Physician Assistants


Registered Nurses



PROGRAM SCHEDULE*
FRIDAY, OCTOBER 2, 2009
6:00‑7:00
Registration/Coffee
Overview Of Genetic Medicine
7:00‑7:10
Welcome and Introduction
Michael F. Murray, MD
7:10‑8:10
Keynote Lecture
What the Primary Care Provider Needs to Know about Genetics
Bruce R. Korf, MD, PhD
8:10‑9:00
Key Genetic Principles that You Need to Know
David T. Miller, MD, PhD
Special Topics
9:00‑9:45
Personalized Medicine Meets Evidence‑Based Medicine
W. Gregory Feero, MD, PhD
9:45‑10:15
Break
10:15‑10:50
Genetics of Cardiovascular Disease
Christopher J. O'Donnell, MD, MPH
Underdiagnosed Monogenic Diseases
10:50‑11:25
Genetics of Thromboembolic Disease
Samuel Z. Goldhaber, MD
11:25‑12:00
Genetic Causes of Cardiomyopathy
Carolyn Y. Ho, MD
12:00‑1:30
Optional Working Lunch ‑ Peer Networking and Case Discussions
Pre‑registration required and lunch provided
Underdiagnosed Monogenic Diseases
1:30‑2:05
Genetics of Lipid Disorders
Mason W. Freeman, MD
2:05‑2:40
Genetic Causes of Liver Dysfunction
Benjamin N. Smith, MD
2:40‑3:15
Genetics of Renal Failure
Martin R. Pollak, MD
3:15‑3:35
Case Studies: #1 ‑ A Patient With a Family History of Genetic Disease
Gretchen H. Schneider, MS, CGC
3:35‑3:55
Break
3:55‑4:15
Case Studies: #2 ‑ A Family with Vascular Disease
Elizabeth Sparks, MS, CNP, APNG
Ethical Legal Social Implications (ELSI) of Genetics Lecture
4:15‑5:00
Genetic Susceptibility for Common Disorders: Alzheimer's Disease and Beyond
Robert C. Green, MD, MPH
5:00‑6:00
Reception
The Fairmont Copley Plaza
SATURDAY, OCTOBER 3, 2009
6:30‑7:00
Coffee
Common Genetic Diseases
7:00‑7:10
Review of Schedule
7:10‑7:55
Genetics of Anemia in Adults
Joan M. Stoler, MD
7:55‑8:40
Genetics of Pulmonary Disease
Dawn L. DeMeo, MD
8:40‑9:25
Adult Neurogenetic Cases
Patricia E. Greenstein, MD
9:25‑9:45
Break
9:45‑10:30
Case Studies: #3 ‑ A Patient with a Genetic Incidentaloma
Michael F. Murray, MD
10:30‑11:30
Genetics of Gastro‑Intestinal Diseases
Mark W. Babyatsky, MD
11:30‑12:45
Optional Working Lunch ‑"Consumer Genetics and the Practice of Medicine" Forum with Expert Panel
Pre‑registration required and lunch provided
Cancer Genetics
12:45‑1:35
Genetics of Breast and Ovarian Cancer
Judy E. Garber, MD, MPH
1:35‑2:25
Genetics of Colon and Other Gastrointestinal Cancers
Sapna Syngal, MD
2:30‑3:15
Using Genetics in Oncology: A Molecular Pathologist's View
A. John Iafrate, MD, PhD
3:15‑3:30
Break
3:30‑4:15
Case Studies: #4 ‑ A Patient with an Inherited Cancer Syndrome
Justin P. Annes, MD, PhD
4:15‑5:00
Genetics of Skin Cancer
Hensin Tsao, MD, PhD
SUNDAY, OCTOBER 4, 2009
7:00‑7:30
Coffee
Genetic Diagnosis and Testing
7:30‑7:40
Review of Schedule
7:40‑8:40
Ordering a Genetic Test: Who Offers Testing, How Much Does It Cost, and Who Will Pay for It?
Heidi L. Rehm, PhD, FACMG
8:40‑9:30
Recommended Genetic Screening 2009
Monica A. Giovanni, MS
9:30‑9:45
Break
9:45‑10:45
Making the Family Health History More Useful in Primary Care Settings
Michael F. Murray, MD
Special Pharmacogenetics Lecture
10:45‑11:45
Using Genetics To Make Prescribing Decisions
David Flockhart, MD, PhD
11:45‑12:00
Break
12:00‑1:00
Optional Working Lunch ‑ Common Scenarios in Adult Genetics: Clinical Case Presentations
Pre‑registration required and lunch provided
*Please note: Program changes/substitutions may be made without notice.
ATTENDANCE LIMITED

ACCREDITATION
Harvard Medical School is accredited by the Accreditation Council for Continuing Medical Education (ACCME) to provide continuing medical education for physicians.
Harvard Medical School designates this educational activity for a maximum of the following AMA PRA Category 1 Credit(s)™ course only: 19.25 ; Sunday luncheon: 1.0. Physicians should only claim credit commensurate with the extent of their participation in the activity.
Last update 08.07.09
FACULTY
COURSE DIRECTOR
MICHAEL F. MURRAY, MD
Division of Genetics
Department of Medicine
Brigham and Women's Hospital
HARVARD MEDICAL SCHOOL FACULTY
JUSTIN P. ANNES, MD, PHD
Brigham and Women's Hospital
DAWN L. DEMEO, MD
Brigham and Women's Hospital
MASON W. FREEMAN, MD
Massachusetts General Hospital
JUDY E. GARBER, MD, MPH
Brigham and Women's Hospital, Dana Farber Cancer Institute
MONICA A. GIOVANNI, MS
Brigham and Women's Hospital
SAMUEL Z. GOLDHABER, MD
Brigham and Women's Hospital
PATRICIA E. GREENSTEIN, MD
Beth Israel Deaconess Medical Center
ERIN K. HARVEY, MS, CGC
Partners Center for Personalized Genetic Medicine
CAROLYN Y. HO, MD
Brigham and Women's Hospital
DAVID J. HUNTER, MBBS, SCD
Brigham and Women's Hospital, Harvard School of Public Health
A. JOHN IAFRATE, MD, PHD
Massachusetts General Hospital
HEIDI L. REHM, PhD, FACMG
Laboratory for Molecular Medicine, Partners Healthcare Center for Personalized Medicine
DAVID T. MILLER, MD, PHD
Children's Hospital Boston
CHRISTOPHER J. O'DONNELL, MD, MPH
Massachusetts General Hospital
MARTIN R. POLLAK, MD
Brigham and Women's Hospital
BENJAMIN N. SMITH, MD
Brigham and Women's Hospital
ELIZABETH SPARKS, MS, CNP, APNG
Brigham and Women's Hospital
JOAN M. STOLER, MD
Children's Hospital Boston
SAPNA SYNGAL, MD
Brigham and Women's Hospital, Dana Farber Cancer Institute
HENSIN TSAO, MD, PHD
Massachusetts General Hospital
GUEST FACULTY
MARK W. BABYATSKY, MD
Mount Sinai Medical Center, New York, NY
W. GREGORY FEERO, MD, PHD
NIH‑National Human Genome Research Institute, Bethesda, MD
DAVID A. FLOCKHART, MD, PHD
Indiana University School of Medicine, Indianapolis, IN
ROBERT C. GREEN, MD, MPH
Boston University, Boston, MA
BRUCE R. KORF, MD, PHD
University of Alabama, Birmingham, AL
MICHAEL A. RACKOVER, PA‑C, MS
Philadelphia University, Philadelphia, PA
GRETCHEN H. SCHNEIDER, MS, CGC
Brandeis University, Waltham, MA
REGISTRATION INFORMATION
Physicians: $710.00 (USD)
American College of Physicians Members: $610.00 (USD)
Residents and Fellows in Training: $510.00 (USD)
Allied Health Professionals: $510.00
Genetic Counselors: $510.00 (USD)
(Does not include CEU fees for ABGC diplomates.)
All foreign payments must be made by a draft on a United States Bank or by Visa or MasterCard.
If paying by CHECK, please make payable to Harvard Medical School and mail with completed registration form to Harvard Medical School‑Department of Continuing Education, PO Box 825, Boston, MA 02117‑0825.
If paying by credit card, please register online via the REGISTER ONLINE link here or above.
Telephone or mail‑in registration with credit card payment is not accepted.
Inquiries should be directed to the above address, made by phone: (617) 384‑8600, Monday ‑ Friday, 10 AM to 4 PM (EST), or by email: hms‑cme@hms.harvard.edu
Upon receipt of registration a confirmation will be mailed to the address listed on the form.
If registering online, please review your Optional Workshop Selections now. You will be asked to select your workshops upon completing registration. Using your 'back' button on your browser during registration is not advised.
TUITION REFUND POLICY
A handling fee of $60 is deducted for cancellation. Refund requests must be received by mail one week prior to the course. No refunds will be made thereafter.
COURSE LOCATION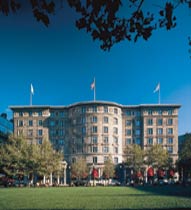 All sessions will be held at
The Fairmont Copley Plaza Hotel
138 St. James Avenue
Boston, MA 02116
(Telephone: 617-267-5300 or (800) 441‑1414)
www.fairmont.com/copleyplaza
TRAVEL
Please do not make non-refundable airline reservations until you have been confirmed into your course. You can make your airline reservation by calling: the HMS Travel Desk toll free 1‑877‑4HARVMD (1‑877‑442‑7863) Monday ‑ Friday 9 am ‑ 8 pm (EST). From outside the U.S., Canada and Virgin Islands, please call 617‑559‑3764.